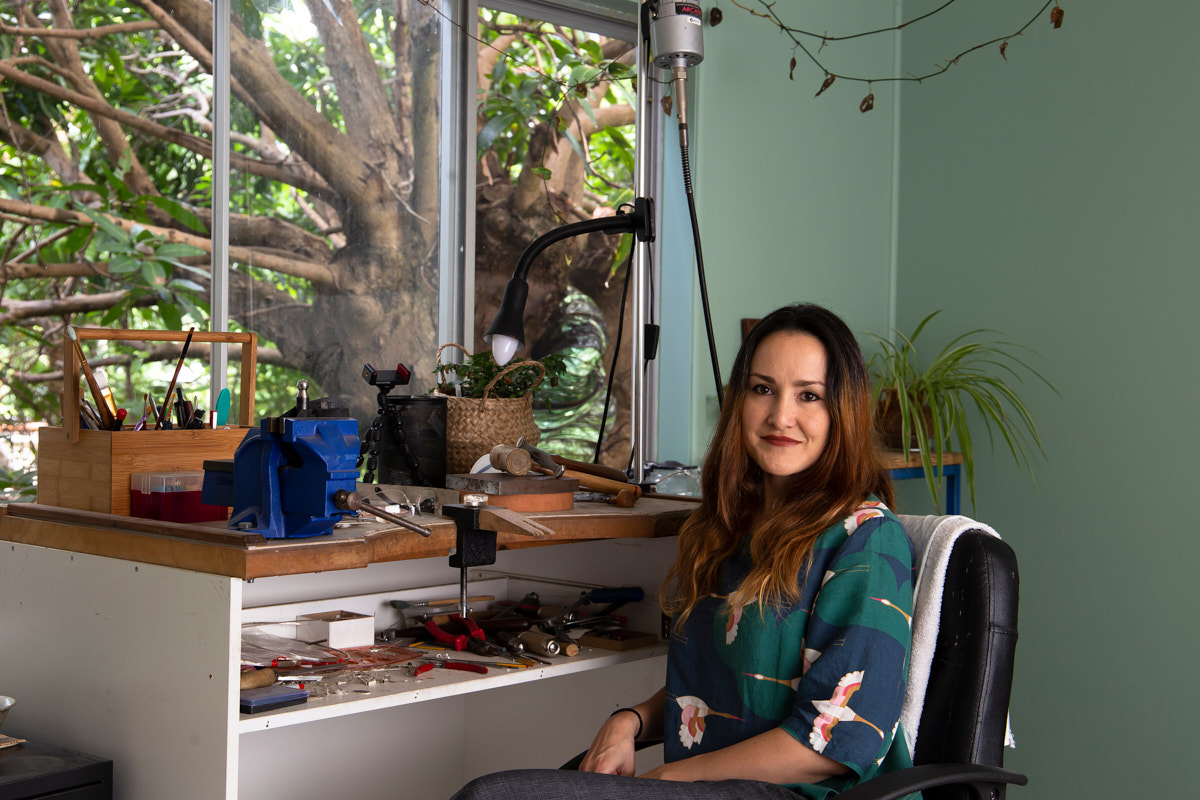 Mari Hirata is a visual artist and silversmith based in Brisbane, Australia.
Mari's collections explore the coming together of form, space, and light – seeking a balance between interpersonal archetypal forms and personal narrative. An amalgamation of symmetry and the organic, they are a reflection of both natural and man-made landscapes, drawing from the aesthetic sensibilities of her multicultural heritage.
In her wearable pieces, Mari uses a mixture of precious and base metals, stones, pearls, paint, paper, and found objects. Most of her works are hand formed and fabricated in her home studio – making each creation a unique piece of wearable art.
Since completing her Master of Arts in Visual Arts from Queensland College of Art in 2003, Mari has exhibited in venues throughout Australia and overseas. Her practice over the years has revolved around photography, sculpture, installation, and silversmithing, and her works are housed in collections including the National Gallery of Australia (Canberra), Home Of The Arts (Gold Coast), and Toowoomba Regional Art Gallery .
Receiving ongoing mentorship under master Gold & Silversmith Sel Pilgrim since 2014, Mari has progressed onto developing a distinct style that responds to her surroundings, symbols, and relational concepts, while reflecting the aesthetics and sensibilities of her Japanese cultural heritage.
Mari was Artist In Residence at the renowned Bundanon Trust in 2018, and in 2019 was one of five artists featured in Elements outdoor sculpture exhibition as part of Horizon Art Festival on the Sunshine Coast. Her wearable sculptures were shown in the exhibition State of Shine at Radiant Pavilion: Melbourne Contemporary Jewellery and Object Biennial 2019, followed by Redcliffe Regional Art Gallery in 2021, and a selected finalist in Contemporary Wearables Biennial Jewellery Award & Exhibition at the Toowoomba Regional Art Gallery in '19 and '21.
In 2020 Mari was awarded the Neumann Family SWELL Sculpture Award held at Currumbin Beach on the Gold Coast, and received the Environmental Award at the 2021 Sculpture at Scenic World, held at the Blue Mountains, NSW. In the same year, a series of her wearable artworks were acquired by the Toowoomba Regional Art Gallery's contemporary jewellery collection, through the Contemporary Wearables Award & Exhibition.
Mari is represented by Lorraine Pilgrim Gallery (Gold Coast), and her wearable and small object works are currently stocked at Artisan, HOTA, Lorraine Pilgrim Gallery + Studio 87, Museum of Brisbane, Paper Boat Press, and Rockhampton Museum of Art.